Pam Touring with The Chris Norman Band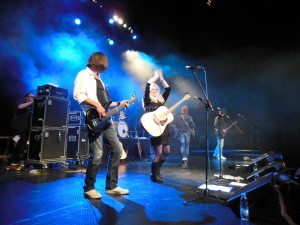 After wrapping up a successful  Americana Treasures Tour at the end of last year, Pam has been continuing on the road, and is now touring with The Chris Norman Band.  Chris Norman was the lead singer of the popular English band, "Smokie".  Their hits include songs such as Livin' Next Door To Alice, as well as the duet with Suzi Quatro , Stumblin' In.  On the tour Pam is performing the hit duet with Chris, as well as his other hits, the songs from his new CD and she is playing guitar .
Since joining the tour, Pam has performed with them in Bulgaria and Istanbul, Turkey.  The Istanbul show also featured pop diva Bonnie Tyler.  The show included an array of hits from both artists like Chris Norman's Midnight Lady and Bonnie Tyler's hit Total Eclipse of the Heart.
Please stay tuned to Pam's touring schedule for more upcoming Chris Norman Band dates, plus her own personal appearances.