Americana Treasures Tour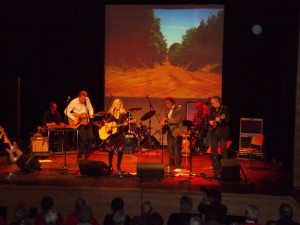 What a year for Pam, and it was all wrapped up with her headlining the well known Americana Treasures Tour.  Teaming up with members of the award winning Dutch band Cash On Delivery, Pam performed everything from classic country, to today's top country hits mixed in with her own popular songs.
From Cash On Delivery, Wim van de Vliert  joined Pam in performing classic country as well as popular Cash on Delivery songs. Wim van de Vliert was accompanied by Ad Welten on Bass, Johan Jansen on Steel Guitar, and Erik Hanegraaf on drums.
Americana Treasures Tour has previously featured Dale Watson and Heather Myles.  Though their styles are different, Heather Myles and Pam do share the same passion for country music.
Playing to sold out theaters and cheering crowds, Pam says, "What a way to end the year!"